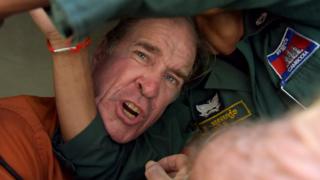 An Australian filmmaker who was sentenced by a Cambodian court to six years in prison on spying charges has been granted a royal pardon.
James Ricketson, 69, was arrested in June 2017 while flying a camera drone over an opposition rally.
Mr Ricketson, who denied the charges, has been a critic of long-standing Cambodian Prime Minister Hun Sen.
His arrest was part of a wider crackdown on dissent by the increasingly authoritarian government.